---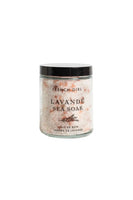 Calming Lavender Bath Salts
Regular price $22.00
Shipping
options and fees display at checkout, including free curbside pickup.
FRENCH GIRL - Calming Lavender Bath Salts
French Girl Calming Lavender Bath Salts are made with 6 salt varieties and infused with the delicate scent of White Lavender, it softens the skin, soothe aching muscles, and eases the mind, body, and spirit. 
Usage: Fill tub; sprinkle in 1-2 handfuls of salt. Stir to dissolve.

Skin Type: All
Size: 10 oz / 283g
THE SUPERSTARS: Mediterranean Salt is rich in minerals like potassium and iodine that may help alleviate skin conditions and soothe the mind.
Mineral-rich Dead Sea salt has been used for centuries to calm and soothe skin.
Epsom Salts relax muscles and help loosen stiff joints.
.
SYNTHETIC-FREE FORMULA:  Plant Essential Oils provide an aromatherapeutic, spa-like experience without synthetic fragrances or chemical enhancers.

WELLNESS BENEFITS: Soothes aching muscles & joints, Encourages relaxation, Promotes self-care.
Usage: Fill tub; sprinkle in 1-2 handfuls of salt. Stir to dissolve.

Skin Type: All
Size: 10 oz / 283g
INGREDIENTS: Maris Sal, Magnesium Sulfate, Sodium Chloride, Lavandula Angustifolia Oil, Citrus Aurantium Bergamia Fruit Oil, Lavandula Hybrida Oil, Rosmarinus Officinalis Flower Oil, Linalool, Limonene

*Certified Organic/Wildcrafted