---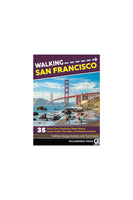 Walking San Francisco
Regular price $17.00
Shipping
options and fees display at checkout, including free curbside pickup.
AdventureKEEN - Walking San Francisco
35 Savvy Tours Exploring Steep Streets, Grand Hotels, Dive Bars, and Waterfront Parks
Featuring 35 self-guided walking tours, Walking San Francisco leads readers through the city's interesting, scenic, and historic places.
Get to Know San Francisco's Most Vibrant and Historic Neighborhoods
Grab your walking shoes and become an urban adventurer. San Francisco is a richly historic city of scenic vistas and diverse neighborhoods. Let Kathleen Dodge Doherty and Tom Downs guide you through 35 unique walking tours that traverse the City by the Bay's length and breadth. The self-guided tours lead you through the heart of the left coast.
Each featured walk includes full-color photographs and detailed neighborhood maps. The walks' commentaries touch upon such topics as architecture, culture, trivia, and a local history that includes the Gold Rush, the Summer of Love, and the current tech boom. Route summaries highlight points of interest on each tour, while tips on local cafes, bars, nightlife spots, and five-star dining options help to ensure that you find the "can't miss" locales.
Walking San Francisco takes you from the Embarcadero to Lands End, from Bernal Heights to Golden Gate Park. It provides the perfect path for a weekend, an after-work ramble, or a sociable pub crawl. Find a route that appeals to you, and walk San Francisco!