---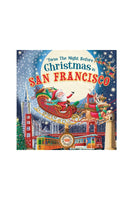 'Twas the Night Before Christmas in San Francisco
Regular price $12.00
Shipping
options and fees display at checkout, including free curbside pickup.
'Twas the Night Before Christmas in San Francisco
By Jo Parry (Illustrator)
A classic Christmas story combined with the magic of Santa visiting the BAY CITY!
It's the night before Christmas in San Francisco and you're nestled snug in your bed. Your stocking is hung by the chimney with care—will Santa visit YOUR HOUSE? Follow Santa's journey to Pacific Heights, Golden Gate Park, Fisherman's Wharf, and more in this magical retelling of a classic children's Christmas book starring landmarks like Golden Gate Bridge and Grace Cathedral. An ideal Christmas gift or holiday stocking stuffer, this read-aloud story is the perfect way for kids, parents, grandparents, and caregivers to celebrate the holiday season in San Francisco.
What's inside:
A Christmas certificate announcing YOUR CHILD is on Santa's Nice List
Magical illustrations that capture the wonder of the holiday season
A reprisal of the classic 'Twas the Night Before Christmas story featuring Santa's visit to SAN FRANCISCO
Landmarks such as

 

cable cars,

 

Coit Tower,

 

Transamerica Pyramid, and more
A gift perfect for kids who live in or have relatives in San Francisco or visit the West
From the Sunset District to Sausalito,
from Union Square to Pacific Heights,
Santa can't wait to visit all
the children on his Nice List.
He piles his sleigh high with
a sack full of gifts, and off he goes!