---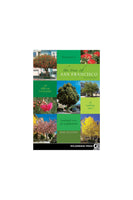 The Trees of San Francisco
Regular price $20.00
Shipping
options and fees display at checkout, including free curbside pickup.
AdventureKEEN - The Trees of San Francisco
Your guide to 64 different tree profiles, 12 walking tours and landmark trees by neighborhood.
The Trees of San Francisco introduces readers to the rich variety of trees that thrive in San Francisco's unique conditions. San Francisco's cool Mediterranean climate has made it home to interesting and unusual trees from all over the world – trees as colorful and exotic as the city itself.
This new guide combines engaging descriptions of sixty-five different trees with color photos that reflect the visual appeal of San Francisco. Each page covers a different tree, with several paragraphs of interesting text accompanied by one or two photos. Each entry for a tree also lists locations where "landmark" specimens of the tree can be found. Interspersed throughout the book are sidebar stories of general interest related to San Francisco's trees. The Trees of San Francisco also includes a dozen tree tours that will link landmark trees and local attractions in interesting San Francisco neighborhoods such as the Castro, Pacific Heights and the Mission – walks that will appeal to tourists as well as Bay Area natives.