---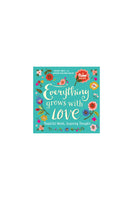 Everything Grows with Love
Regular price $11.00
Shipping
options and fees display at checkout, including free curbside pickup.
Everything Grows with Love: Beautiful Words, Inspiring Thoughts
A Gift of Love…
…in words that encourage, inspire, affirm, and lift up, in quotes and sayings and private thoughts that put a bloom in the heart of the reader.

A Gift of Beauty…
…in hand-lettering and calligraphy, in paper-cuts and colorful collages, in drawings and prints—and in the joy found on every page.

Relish life, love, and friendship—and share it with everyone you love. Created by the editors of Flow magazine, Everything Grows with Love features dozens of uplifting quotes and sayings in original graphics and hand-lettering by 20 contributing artists and illustrators. On each page, affirmations, motivational sayings, and quotes are illuminated in gorgeous calligraphy, playful photomontages, and exquisite embroidery. These are sweet expressions of inspiration and wonder: From little things big things grow. You've got to have a little rain to make a rainbow. Love is all you need. Collect moments, not things. Life is beautiful. Be happy, so that when others look at you they are happy too.

Perfect for Valentine's Day, wedding showers, birthdays, or simply as a pick-me-up for a friend or relative, it's an ode to creativity, inspiration, and, above all else, love.