---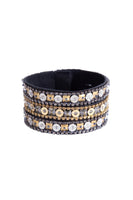 Black Amoli Cuff
Regular price $98.00
Shipping
options and fees display at checkout, including free curbside pickup.
Deepa Gurnani - Amoli Cuff - Black 
Hand embellished statement bracelet.
Cotton woven
Glass beads
Brass components
Metal magnet

Nylon thread
Metallic thread
Nickel free
Lamb suede backing
Size:
Length: 7 in
Width: 1.25 in
Please note: Due to the handmade nature of this collection, colors and patterns may vary slightly from the image shown.  Minor differences enhance the beauty and uniqueness of each style.
About Deepa Gurnani:
Deepa Gurnani's purpose is to preserve and refine the storied craft of Indian hand embroidery. In doing so, we strive to enrich the livelihood of our Karigars by adopting fair trade practices and ensuring safe working conditions. We strive to produce the finest hand crafted accessories using responsible and ethical methods. We believe the Earth is sacred and will implement responsible methods to preserve and protect the environment. Altruistic endeavors are at the forefront of our mission and we continue to commit a portion of our profits to charitable causes. We aim to contribute to a better world while safeguarding the cultural heritage of Indian embroidery.