---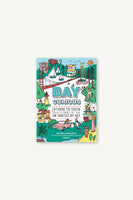 Bay Curious
Regular price $16.00
Shipping
options and fees display at checkout, including free curbside pickup.
Bay Curious: Exploring the Hidden True Stories of the San Francisco Bay Area
Curious about the San Francisco Bay Area? With explorations into unique local legends, interesting landmarks, and uncovered histories, Bay Curious is a fun, quirky guide to the secret stories of the San Francisco Bay Area for visitors, newcomers, and California natives alike. 
Who was America's first and only Emperor? Why are there ships buried under the streets of San Francisco? And was the word "hella" really created in the East Bay? Bay Curious brings you the answers to these questions and much more through fun and fascinating illustrated deep dives into hidden gems of Bay Area trivia, history, and culture.
Based on the award-winning KQED podcast of the same name and written by host Olivia Allen-Price, Bay Curious brings a fresh eye to some of its most popular stories and covers more stories unique to this book. With subjects ranging from Marin's redwood forests to the Winchester Mystery House, from the Black Panther Party's school program to the invention of the Mai Tai, Bay Curious gives you the entertaining and informative, weird and wonderful true stories of the San Francisco Bay Area.
NOT YOUR AVERAGE GUIDEBOOK: Bay Curious takes a unique approach to exploring the Bay Area through its lesser known, but no less fascinating stories, taking readers on a reportorial rather than literal tour.
BEYOND THE PODCAST: With 49 entries—inspired by the famous 49 Mile Drive— Bay Curious includes a combination of updated popular episodes from the podcast and brand new, never before heard stories researched for the book, plus fun illustrations and irresistible trivia sidebars.