---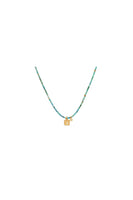 Astral Beauty Turquoise Celestial Necklace
Regular price $170.00
Shipping
options and fees display at checkout, including free curbside pickup.
Satya Jewelry - Astral Beauty Turquoise Celestial Necklace
Eternal and magical, the astral beauty of the sky inspires us with its light and invites us to cast our dreams ever upward. A necklace of turquoise—stone of health, intuition, and self expression—is graced with two charms featuring a crescent moon, gleaming star, and brilliant sun to symbolize the goddess, dreams, and vitality. 
Sun - vitality, leadership, life
Moon - nourishment, protection, goddess
Star - guidance, inspiration, dreams
White topaz - Individuality, creativity, awareness
Turquoise - health, intuition, self-expression
Stone sizes - 1 & 2mm faceted round white topaz;
Bead size - 2.5mm faceted rondelle turquoise
Necklace length - 16" + 3" extension
18kt gold plate over brass
Made in USA
All of Satya Jewelry's plated styles are made of high quality 18kt gold plated over brass with a palladium coating. Palladium is a special metal that helps protect the plating and bond the gold to the brass. Each cast piece is then hand-brushed to give it a unique matte gold finish. All styles are hypoallergenic, nickel-free, and long-lasting in wear.